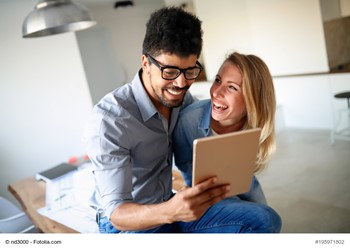 If buying a home is something you're considering, you might be curious about the different types of mortgages that are available to you. After all, the interest rate on your loan could have a huge impact on your finances over time, saving you thousands of dollars.
In today's post, I'm going to demystify the home loan by explaining the most common types of mortgages. That way, you'll be able to approach a lender with a bit of context and knowledge to help make the best mortgage decision for you and your family.
Fixed-rate mortgages
The most common types of home loans in the United States today are fixed-rate mortgages. A fixed-rate mortgage has the benefit of stability in terms of its interest rate--year after year, or the lifetime of your loan, you know exactly what percent of interest you're going to pay.
Fixed-rate mortgages most frequently come with repayment terms of 15 or 30 years. However, some lenders offer different repayment periods.
As with any debt, paying off a mortgage in a shorter term typically amounts to paying less interest over the lifespan of the loan. For this reason, buyers who can afford higher monthly mortgage payments often opt for a 15-year fixed-rate mortgage.
If you can't afford higher monthly payments, a 30-year loan will typically have lower mortgage payments, but at the expense of paying more interest over the life of the loan.
The 30-year option is the most often in the United States, where first-time buyers typically have too many other monthly bills to afford a high mortgage payment.
Adjustable-rate mortgages
Adjustable-rate mortgages (ARMs) were once an ideal option for first-time buyers who could purchase a home at a very low interest rate and then refinancing once that rate was set to rise. However, after the housing crisis of 2007, trust in the housing market drastically declined.
In recent years, ARMs have begun to make a comeback. However, they currently still only account for around 5% of home loans.
Adjustable-rate mortgages come with one important advantage and one huge disadvantage over fixed-rate mortgages. The upside is the ability to borrow money for a home at a lower interest rate than other mortgage types. The down side? Your interest rate isn't locked in for the length of the loan, meaning your rate could, in theory, rise dramatically before you sell or pay off the home. This is exactly what happened to borrowers during the subprime mortgage crisis.
Guaranteed loans
There are a number of special loan programs that have been sponsored by the government over the years. Among them are USDA rural development loans, VA loans for veterans and their spouses, and FHA loans offered by the Federal Housing Authority.
All of these loans make it easier to buy a home with little or no down payment or a credit score that's less than perfect. That makes these options great for first-time homeowners.